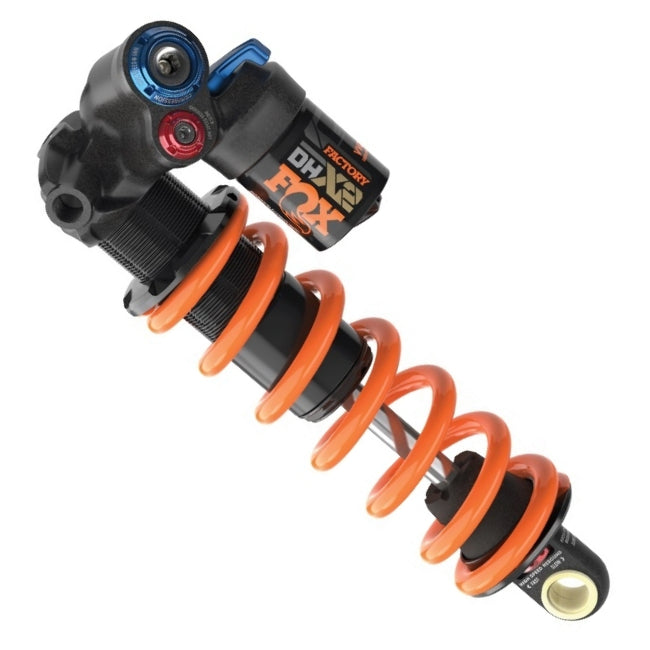 Fox Rear Shock DHX2 2021 200x51 (7.875 x 2.0)
RRP$1,115.00 $599.00
2+ 5+ In stock 1 left! Order by 1:00pm AEST for same day despatch
Get 10% off this item when purchased with any other Fork, Shock or Seatpost combination! Discount will be applied automatically.
SRP $1049AU (standard), $1115AU (2-Position Climb Lever)
All new for 2021, the FLOAT DHX2 has had a complete redesign to improve performance across the board.   New compression and rebound circuit designs allow for greater oil flow and greater control, new shaft material, finish and seals reduce friction.   
The third generation of the Fox DHX2 gets a ground up redesign.  The addition of Variable Valve Control to the high speed rebound circuit required a new chassis, so Fox thought "if we have to redesign the shock, lets make everything better".  Variable Valve Control started life in the GRIP2 damper and allows riders to change the stiffness of the high speed rebound valve without changing the total amount of oil that can flow resulting in a shock that can recover from big hits better while having finer control over the flow of oil.
This is matched with a new higher flowing main piston to enable the higher shock speeds produced from big hits to be better controlled without having to restrict oil volume which could add harshness.  When combined with a new progressive MCU bottom out bumper specific to the DHX2 and a more significant tuning range for the High Speed Compression adjuster thanks to that improved control of oil, tuning how the shock responds to big hits is more easily achieved with just a 6mm Allen key.
Fox changed the material of the damper shaft and revised their sealing to improve friction and durability.  The steel outer body and finned inner body increases structural rigidity and reduces hysteresis.
Trail and Enduro riders have to go up mountains as well and the move to VVC allowed the 2-position climb switch to be placed on a separate circuit, meaning the "lockout" is noticeably firmer as it no longer has any effect on the open mode tune.
The new DHX2 has never been more ready to race.
Spring Chart Here: 
NEW chassis

NEW damper

NEW high-flow main piston

NEW seals reduce friction

NEW Progressive MCU 'Bottom-out' bumper

2-pos Open/Firm lever retains high & low speed compression adjustment and offers an independent, firmer climb mode than previous DHX2.

High and low-speed compression and high and low-speed rebound adjustment

NEW Variable Valve Control on the High Speed Rebound circuit provides more tuneability

Matching 8 clicks of HSC and HSR with GRIP2 forks

NEW damper shaft material and finish combined with new seals reduces friction and improves durability

NEW detents on spring collar prevent loosening of the spring

Reduced reservoir length improves clearances and frame fitment

SLS spring option provides titanium weight savings at affordable price

Fox Standard Coil/SLS Coil Springs Sold Separately
Fox Mounting Hardware. Sold Separately
Please note:  Trunnion mount shocks have shorter maximum spring lengths.  Please refer to the

 

Fox Spring Chart here.
KNOWN FITMENT ISSUES - This shock is 
NOT
 suitable for your bike if listed below. 
Canyon

:               Spectral (MY2020-2021), Torque (MY2021)

Commencal

:       Meta (MY2018-20), Meta Power (MY2019-21)

Eminent

:              Onset (MY2020-2021)

Kellys:

                   Theos F series (MY2021)

Lapierre

:              Overvolt (MY2020-21)

Polygon

:              Xquarone (MY2018-21), Siskiu (MY2018-2021)

Specialized

:        Kenevo (MY2020-21), Levo (MY2019-21), Levo SL (MY2020-21), Stumpjumper Evo (MY2021)
 See the Fox website for more info.