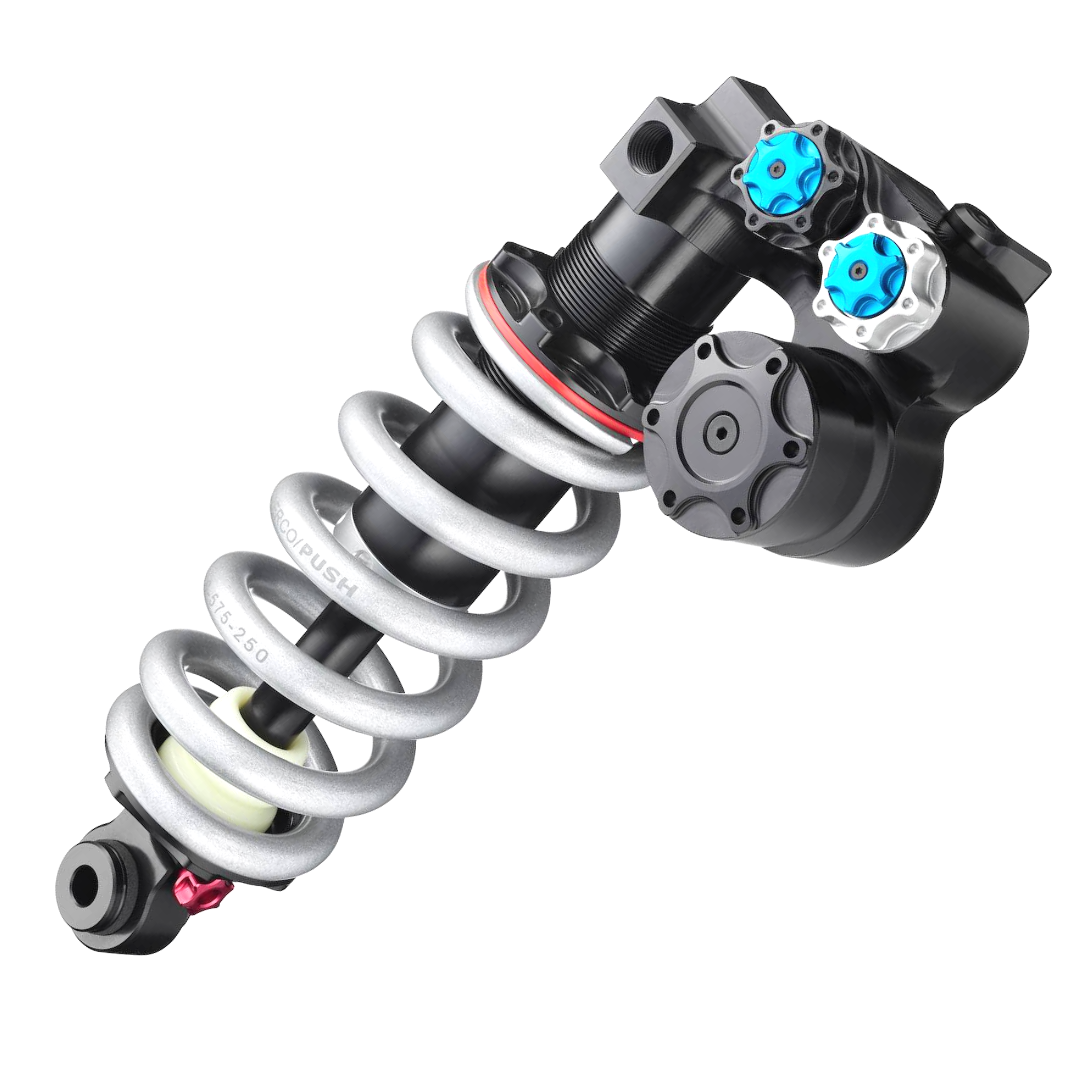 PUSH ELEVENSIX 'S' - Transition Patrol MX 2022
Our price $2,299.00
Order now for delivery in approximately 4 weeks In stock 1 left! Order by 1:00pm AEST for same day despatch
Get 10% off this item when purchased with any other Fork, Shock or Seatpost combination! Discount will be applied automatically.
Each ElevenSix comes specifically tuned for the bike and rider, including appropriate spring rate, settings and of course - mounting hardware. It is shipped to you truly ready to shred.  
Introducing the New ElevenSix S-Series.
It's the Mack Daddy...the Big Show...the Grand Poobah...the Whole Enchilada. Whatever nickname you give it, the Push ElevenSix HD is the ultimate mountain bike shock for any rider seeking traction, speed, comfort, control, and confidence. Get ready for the ElevenSix and prepare for unrivaled performance*.  
Replaces all models of current R-Series Shocks
NEW 3 Port HFQ Piston available in Linear/Linear or Digressive/Linear configurations.
NEW Low-speed Compression needle.
NEW Low profile Low-speed and High-speed Compression Adjusters.
NEW Larger diameter Low-speed compression dials.
NEW Updated Spring Retainer Design, in Black anodize.
NEW Step Progressive Bottoming Bumpers.
NEW Compression Damping Architecture.
NEW Rebound Damping Architecture.
NEW Motorex Racing Shock Oil.
NEW Black Fasteners Updated Laser Engraving.
Performance improvements:
Improved Low-Speed damping characteristic to provide increased traction at low speeds.
Mid Speed damping characteristics revised to provide a more lively (poppy) feel.
50% increase in end-stroke progressiveness providing an even more bottomless feel.
40% increase in response time over high-frequency bumps resulting in less harshness.
Decreased High-Speed Compression in Mid-Stroke to eliminate "dead, or overdamped feel".
Improved external adjustment range for easier trail tuning.
Performance improvements are 100% backward compatible with R-Series shocks via aftermarket "Performance Pack Upgrade".
Improved adjuster clearance on smaller frames Improved Low-Speed Compression Dial size and feel.
Increased Tuning Catalogue for improved linkage optimization